USDF/IDA National Quiz Challenge
USDF/IDA National Quiz Challenge
The USDF and Intercollegiate Dressage Association (IDA) have partnered to offer a quiz challenge as part of the annual IDA National Championships. The USDF/IDA National Quiz Challenge is open to all IDA members, who are also USDF members, and focuses on classical dressage theory and training and dressage competition rules. The five highest scoring individuals in each of the four divisions (Introductory, Lower Training, Upper Training and First Level) advance to the finals at the IDA Nationals. A winner is declared in each division, with one grand prize winner.
Registration
Membership Requirement: Participants in the Quiz Challenge must be USDF members. This membership can be a Participating Membership, a Group Member Organization (GMO) Membership, or an Education Membership. Your membership must be current from when you register until the conclusion of the Quiz Challenge.
Registration: Registration for the 2019 IDA Quiz Challenge is now open. The last day to register will be March 8, 2019.
Round 1: Round 1 of the 2019 IDA Quiz Challenge will open on March 11 and close on March 25 at midnight. The results of Round 1 will be announced on April 1.
Championship Round: The top five (5) riders from each level of the Round 1 competition will move on to the Championship Round to be held at the IDA National Championships on Friday, April 26 from 2-3 p.m. at Lake Erie College.
2019 Grand Prize: The 2019 Grand Prize will be a registration to the 2020 USDF/USEF Young Rider Graduate Program. This program is a two-day educational seminar that focuses on crucial topics that young adults need to know to prepare for a professional career in the equine industry. Topics include goal setting, sponsorship, international competition and business subjects such as contracts, insurance and tax practices. These subjects are taught by some of the top professionals in the country to foster strong role models for the future. The winning student will be responsible for travel expenses.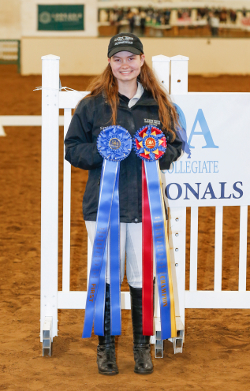 2018 Winners
Grand Prize Winner: Kiersten Pratt, Lake Erie College. Kiersten was the winner of the Upper Training Level Division.
The Level winners were:
Introductory – Erin Diehl, Lake Erie College
Lower Training Level – Morgan Blanyer, Lake Erie College
First Level - Giuliana Raggio, Lake Erie College
Kiersten shared her enthusiasm for the challenge, and the internship, in saying, "Participating in the quiz challenge has given me the incentive to study deeper about dressage theory, which will help me improve my own riding. I'm very honored to have won the internship with Hilltop Farm and I can't wait to learn from some of the best!"
For more information on the USDF/IDA National Quiz Challenge, please contact the USDF Youth Programs Liaison at youth@usdf.org.